Play Poker for Real Money Using PokerStarsTopUp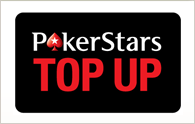 What is PokerStarsTopUp?
PokerStarsTopUp is a prepaid voucher available in the UK that allows you to quickly and easily deposit funds to your PokerStars account. It is very easy to use - simply follow these instructions;
Purchase a PokerStarsTopUp voucher at any authorized dealer (see below).
Select 'PokerStarsTopUp' in the PokerStars cashier.
Select the value and enter the PIN printed on your voucher.
For detailed Terms and Conditions on using PokerStarsTopUp, please click here.
Where can I purchase PokerStarsTopUp vouchers?
PokerStarsTopUp vouchers can be purchased in over 28,000 stores across the UK that carry the Payzone or PayPoint sign.
Please click here to find your closest store.
Please click here to find your closest store.
How can I make a deposit using PokerStarsTopUp?
PokerStarsTopUp is fully integrated within the PokerStars cashier. When you click 'Cashier' and then 'Buy Chips', you will see an option to use PokerStarsTopUp.
Click the 'PokerStarsTopUp' button, and then 'Deposit', which will take you to a deposit page.
Select the value of the voucher from the dropdown option and enter the PIN printed on your voucher.
Once you have completed this information, click 'Submit' and your deposit will be processed instantly.
What is the purchase value of PokerStarsTopUp voucher?
The prepaid voucher is currently available in the following denominations: £10, £25, £50, £100 and £250.
What are the deposit limits for PokerStarsTopUp?
Please visit the cashier for your current deposit limits.
What about my cashouts?
It is not possible to cashout your funds via PokerStarsTopUp.
Please see our Cashout Policy for alternative cashout methods available.
How does the exchange rate conversion work?
PokerStars uses the prevailing mid-market rate provided by XE (plus a small fee if applicable) to convert your deposits to your PokerStars account currency. For additional information, please read our Real Money Transaction Processing and Currency Conversion Terms and Conditions.
What will it cost me to use PokerStarsTopUp?
PokerStars does not charge any fees for using PokerStarsTopUp.
If you have any further queries, please contact us at support@pokerstarscasino.uk.