Hit it big with The Deal's progressive jackpot
The Deal is a fun, fast way to turn your StarsCoin into huge cash prizes! Just 7 StarsCoin can see you spin the wheel for a shot at the progressive jackpot, which starts at $25,000 and keeps growing until it hits. And if you don't make it to the jackpot round you can still make a splash, with cash prizes worth up to $300 to be won.
What's more, if you play The Deal in the 12 hours before the jackpot is hit, you will automatically win a share of half of the jackpot! Play every day to increase the chances of getting a share when someone scoops the big prize.
Don't have the StarsCoin to play? Visit our Stars Rewards page to learn how to earn StarsCoin.
How to play The Deal
You can play The Deal on our desktop client and mobile app. In the

downloadable desktop client

, click on 'The Deal' icon on the lobby's right-hand side menu. In the mobile app, The Deal can be found under 'More' (iOS) or 'Menu' (Android).
Please note that at this time The Deal cannot be played via the website. You must log into the mobile app or downloadable desktop client to play.
Choose whether to play for 7 or 70 StarsCoin (the bigger buy-in offers larger prizes and a better chance of hitting the jackpot - see prize table below).
Select 'Play now' and you'll be dealt seven cards, face-down; choose two to discard, leaving you with a five-card poker hand.
The better your poker hand, the bigger your prize! Unsure of the ranking of poker hands?

Click here

for a handy guide.
You can also play The Deal in auto-play mode. Select more than one hand, click 'Play now' and your five-card poker hands will be randomly selected for you.
The Prizes
The prize you receive depends on the buy-in you choose and the poker hand you make, as follows:
| Poker Hand | 7 StarsCoin | 70 StarsCoin |
| --- | --- | --- |
| Royal Flush | Jackpot Round | Jackpot Round |
| Straight Flush | $250 | Jackpot Round |
| Four of a Kind | $30 | $300 |
| Full House | $5 | $75 |
| Flush | $1 | $25 |
| Straight | 50 StarsCoin | $10 |
| Three of a Kind | 25 StarsCoin | 300 StarsCoin |
| Two Pair | 7 StarsCoin | 70 StarsCoin |
| One Pair | 2 StarsCoin | 10 StarsCoin |
| Ace High | 1 StarsCoin | No prize |
| High Card | No prize | No prize |
The Jackpot Round
Reach the Jackpot Round and you'll spin a wheel for huge cash prizes, including the ever-growing progressive jackpot! Hit the jackpot and 50% of the jackpot prize money will go straight into your Stars Account. The other 50% will be divided between everyone who has played The Deal in the previous 12 hours.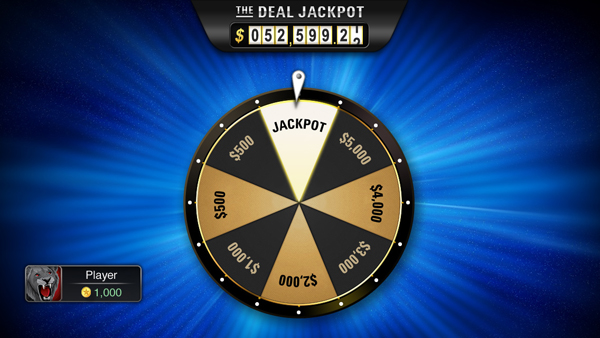 Click here for general promotional Terms & Conditions.
If you have any questions about The Deal or earning StarsCoin, please contact Support.