Saturday Deal: Win up to $1,000 in free cash playing Blackjack
Complete your Blackjack CardHunt puzzle board each Saturday for your shot at up to $1,000 as a guaranteed cash prize.
Your CardHunt puzzle board can be found via your Challenge Window from 00:00 ET on Saturdays. Access your Challenge Window by logging in to your Stars Account on web, through the downloadable client, or via our Mobile app (where available). Each puzzle has 16 pieces to collect, with each piece representing one playing card in a traditional 52-card deck.
Here's how your Blackjack CardHunt puzzle board will look: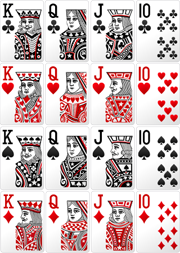 How to complete your Blackjack CardHunt puzzle
To win a guaranteed cash prize worth up to $1,000 just play Blackjack games and hunt down the cards that match your puzzle pieces. You have 24 hours from the time you 'Start' your puzzle to complete it. When you get dealt a card that matches a card in your puzzle you will collect that puzzle piece - it's as simple as that!
For example: You are dealt the Queen of clubs and the five of spades, and stand on 15. As the Queen of clubs is one of the pieces in your puzzle you will instantly collect that piece - it doesn't matter if you beat the dealer of not. If you decide to take a card on 15, and are dealt the Jack of spades you will collect those two puzzle pieces in one swoop, even if you bust your hand.
As soon as you have completed your full Blackjack puzzle you will receive an instant cash reward. Rewards are allocated randomly - ranging from a minimum of $2.50 up to a maximum of $1,000 in cash - and you can view any prizes won in your Challenge Window.
Cash rewards will be yours to keep, with no restrictions, and no earning requirements; so play every Saturday for your chance to win up to $1,000 in free cash!
Please Note: You must bet $2 or more per hand for the cards to count. Live Dealer Blackjack games are not included in this promotion.

Blackjack CardHunt Cash Prizes - what you can win
| Cash Reward (USD) | Probability |
| --- | --- |
| $1,000 | 0.0005% |
| $500 | 0.005% |
| $50 | 0.05% |
| $25 | 0.2% |
| $7.50 | 9% |
| $5 | 40.7445% |
| $2.50 | 50% |
Click on the 'Special Offer Details & Rules' section below for all details.
Back to Casino Daily Deals main page.
Click here for general PokerStars Casino Terms & Conditions.