Search Help
Simply type a keyword or short sentence relating to your query into the box below, and our help system will return the most relevant articles.
Casino and PokerStars Vegas limits
We give our players the option to restrict themselves from casino games and PokerStars Vegas. You can apply this yourself, simply go to the main lobby and select:
'Tools' > 'Responsible Gaming' > 'Restrict Casino & Vegas Limit'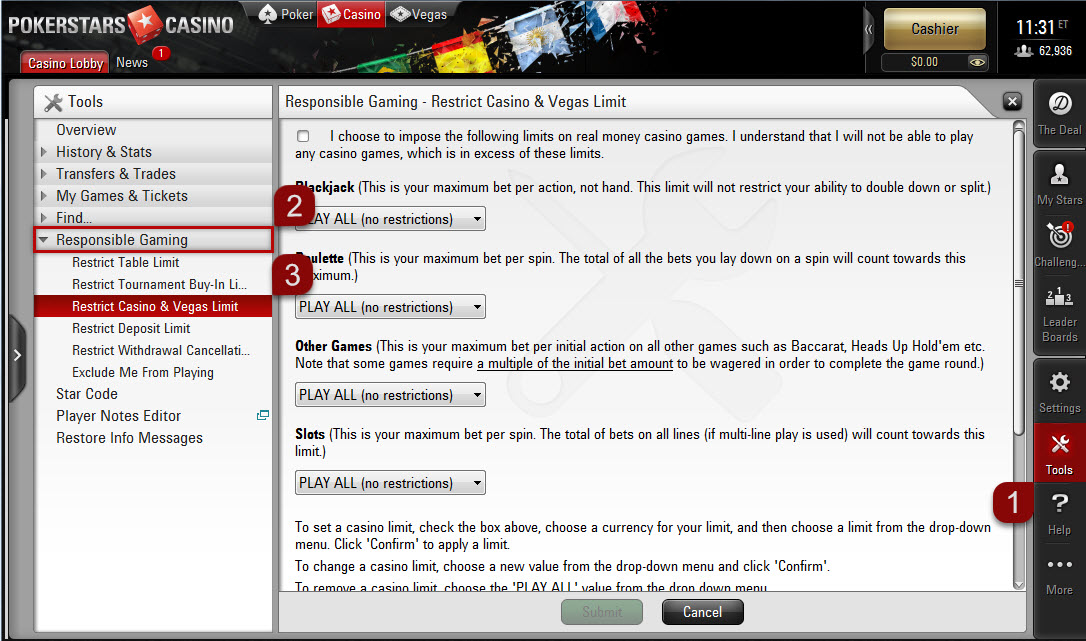 This will allow you to set your own casino restriction limits for each game category. If you want to, you can set this restriction to 'DON'T PLAY'. This means that you will not be able to play the applicable game.
Kindly be aware that each category is entirely independent and a restriction set for solely one category will have no bearing on the other three. Also, once set - you will be unable to increase this restriction for a minimum of 7 days. Any subsequent request to remove or increase your limit will take 24 hours to be approved.
Please also be aware of that you remain liable for all transactions or game play on your Stars Account in line with our End User License Agreement. If you discover that any restriction you have requested has not been implemented, it is your responsibility to report this to us immediately.
We recommend you to take a few moments to familiarize yourself with the Responsible Gaming section of our website.
Feedback
Was this article helpfull?