Play Live Dealer Baccarat Games at PokerStars Casino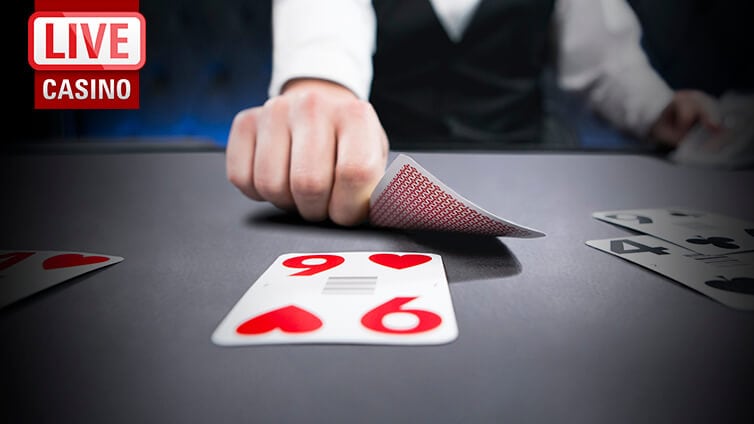 Baccarat is one of the most famous Casino card games in the world, thanks in large part to its notoriety as the game of choice of secret agents and super-villains in spy thrillers and action films.
Featuring some of the lowest house edges found among Casino games (as well as some of the highest), this popular card game is a staple of the VIP sections of bustling casinos around the world, from Monte Carlo to London and Las Vegas.
Of course, Baccarat isn't exclusively for high rollers and super spies; in fact, this is a supremely simple game that can be played by anyone looking for an action-packed adventure in which players are guaranteed to have fun.
Find out for yourself: with real cards, dealt by real dealers, you can play this great game from the comfort of your own home or on your mobile device thanks to the Live Baccarat games available at PokerStars Casino.
Want to compete with the stars? Read on to find out how to play Baccarat like a pro.
Live Baccarat Casino Games: Basic Instructions
So, you want to learn how to play Live Baccarat online? Fortunately, it follows the same overall rules as regular Baccarat games and is played using eight 52-card decks.

In a nutshell: there are two hands played, the 'Player' and the 'Banker', and you have to choose which hand you think will win. You can also bet on a Tie.  
Please Note: even though the hand is called 'Player' you, the player, do not have to bet on it – feel free to back the Banker if you have a hunch!  
So, to get started, you must place your bet on either the Player or Banker to win, or for the round to end in a tie. 
Two hands will be dealt at the start of each game; one pair of cards is dealt to the 'Banker' and another to the 'Player' spot on the table. Time to see who wins!
How to Play Live Baccarat Games Online for Dummies
How does a hand win in Baccarat? Simple – whichever hand has a value closest to nine points wins. Whichever hand of the 'Player' and 'Banker' hands scores closest to nine wins, or in the case of both hands having the same value a tie is declared.
'Player' wins are paid out at 1:1, even money, while 'Banker' wins are paid at the same odds minus a 5% commission.
A tie bet is paid at odds of 8:1, while the 'Banker' and 'Player' bets are pushed.
There are two additional side bets available: Player Pair or Banker Pair. These bets pay at odds of 11:1 should the first two initial cards dealt to either hand be of the same rank. 
While the object of the game is to score as close to nine points as possible, there is a twist: only the second digit of your cards' total score will count. 
In other words,  once you reach a score of 10 your hand value goes back at zero; a total of 11 is worth one point; a total of 12 is worth two points and so on. Face cards and tens are worth zero points, aces score one point, and all other cards score according to their rank. 
So, a hand made up of 2-3-A is worth 6 points; a hand made up of a 9-7 (totaling 16) is also worth six points. 
If the first two cards dealt to either the 'Player' or 'Banker' hand total eight or nine points, this is called a "natural hand" and no additional cards will be dealt. The highest hand wins, and the round is over. 
However, if both hands have a total score of seven or less, the "Third Card Rule" must be consulted to determine if another card is to be drawn for one or both hands. 
The 'Player' hand is addressed first. If this initial two-card hand totals 6 or 7, they will stand. If it holds a value of 0 to 5, an additional card is dealt to the hand. 
Based on the card that the Player hand draws, the Banker hand may also be awarded an additional card. To view the complete list of "Third Card Rule" draws, please visit our Live Baccarat Rules page. 
The theoretical Return to Player (RTP) for Live Baccarat is 98.94%.
The RTP of the three main bets in Baccarat is as follows:
98.76% for the Player bet
99.94% for the Banker bet
86.64% per the Tie bet
The RTP for all side bets is as follows:
89.64% for Banker Pair
89.64% for Player Pair
91.95% for Perfect Pair
86.29% for Either Pair
97.35% for Player Bonus
90.63% for Banker Bonus
Play Live Baccarat Games for Real Money at PokerStars Casino
Even though it's a very simple game to understand and play, Baccarat has many different types of bets and pay-out options. 
This makes it the perfect online Casino game for those that are looking for an action-packed adventure that's easy to learn and fun to play. 
Whenever you decide you want to pull up a seat at our range of Live Baccarat games, there will be a table (or several!) waiting for you in both the regular Live Casino and our VIP area – 24 hours a day. 
When you arrive, a real dealer will be waiting for you and be ready to greet you and accommodate you. They'll be happy to help you with any questions, but unlike Blackjack, in which your strategic decisions can affect the outcome of the hand, Baccarat requires that you to do nothing more than to bet on which hand will win. 
Visit the Casino tab in the client or on the web version of PokerStars Casino and you can easily find a table offering stakes to suit you. You can also play Live Casino Baccarat games on your iOS or Android device. 
Our state-of-the-art technology allows you to feel like you are sitting at a real-life, VIP Baccarat table – without having to leave your sofa! 
Live HD-quality video will be streamed to your device, giving you the best view of all of the action. Live Baccarat will bring you the thrill and excitement of classic Casino action like no other online Casino experience. 
In short, Live Baccarat sets the standard for Live Casino table games available online.
Click here for general Terms & Conditions.